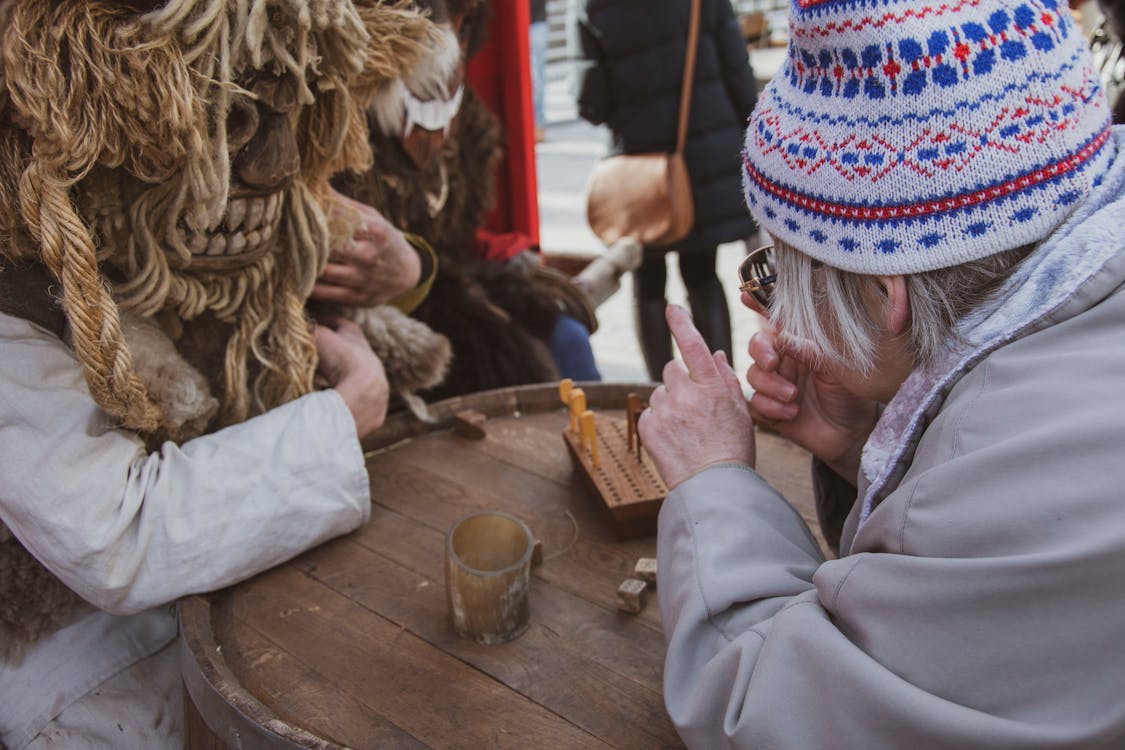 That's right, y'all! With Baby Witch Bootcamp officially wrapped, it's time to jump into our next long term series! I put out a poll on Patreon, and my patrons voted for Paganism 101 as our next series. While not all witches are pagan and not all pagans are witches, there is a lot of overlap between the two groups. Both witchcraft and paganism offer practitioners a sense of freedom, a deeper connection to the world around them, and a greater awareness of their personal power.
I identify both as a witch and as a pagan, and I get a lot of questions about paganism. In this series, we'll go through the basics: what it means to be pagan, the difference between a neopagan and a reconstructionist, and the role of magic in different pagan traditions. We'll also talk about some of the most popular modern pagan traditions and how to find the right tradition for you.
Let's start off by answering the question, "What does pagan actually mean?"
Defining "Pagan"
It's important to remember that "pagan" is an umbrella term that encompasses a wide range of different faiths. Someone who practices Wicca, for example, will have very different beliefs from someone who practices Hellenismos. These different faiths are linked by a shared history, rather than by shared beliefs or practices.
The word "pagan" comes from the Latin "paganus," which literally means "area outside of a city" or, to phrase it slightly differently, "countryside." This adjective was used to describe people and things that were rustic or rural and, over time, came to also have the connotation of being uneducated. Originally, the word had no religious association, and was even used to refer to non-combatants by the Roman military.
From this definition, we can gain some insight into what makes a religion or practice pagan. Pagans feel a kinship with the wild or rural places of the world, and are comfortable waking "off the beaten path."
But how did "paganus" come to refer to a type of religion, anyway?
To understand the religious meaning of "paganus," it's necessary to understand a little bit about the religion of Ancient Rome. Rome (the city) was built inside a pomerium, a sacred boundary that formed a spiritual border around the city and its people. Paganus folks were those who lived outside the pomerium and, as such, may not have been strict adherents of the state religion — they certainly wouldn't have been able to travel into the city for every major festival. They may have gotten a bit more creative with their worship of the gods. However, as previously stated, the word paganus did not have an explicitly religious meaning in ancient times.
The use of paganus as a religious label began after the legalization of Christianity by the Roman Emperor Constantine in 313 C.E. Christianity would not be adopted as the official state religion until 380 C.E., but Constantine's conversion and decriminalization of Christian worship paved the way for Rome's transformation into a Christian state. It was around this time, as Christianity was quickly growing in urban areas, that early Roman Christians began using the word "paganus" to refer to those who still practiced polytheism. Rather than referring to those outside the city's boundary or to untrained civilians, the label now referred to those outside the Church, those who were not "soldiers of Christ."
As Christianity spread in popularity throughout the Mediterranean, Europe, and Northern Africa, the pagan label was applied to all non-Christians in those areas. The word "pagan" became a derogatory label, implying an inferior and backwards religion.
So, really, the thing that makes a religion pagan is a historical conflict with Christianity. Pagan religions are those that were suppressed or completely destroyed after Christianity became the dominant faith in the region.
This is why Norse Paganism and Kemetic (Egyptian) polytheism, which are very different, are both considered "pagan" while Shinto, a Japanese religion that shares a lot of common features with many pagan faiths, is not. Because Christianity never achieved total dominance in Japan, Shinto was never pushed aside to make room for Jesus.
In the 20th century, people who felt drawn to these old religions started to reclaim the pagan label. Like many other reclaimed slurs, "pagan" became a positive label for a community united by their shared history.
What do all pagans have in common?
This is a tough question to answer because, as stated above, paganism is a historical definition, not one shaped by belief or practice. However, there are some things most pagans have in common. Here are a few of them, although these concepts may take different forms in different traditions.
Paganism…
… is (usually) polytheistic. Most pagans do not subscribe to monotheism, the belief in a single, all-powerful divine being. Some pagans are polytheists, meaning they believe in multiple divine beings with varying levels of power. Hellenic pagans, Norse pagans, and Celtic pagans are typically polytheists. Still others are monists, meaning they believe in a single divine source that manifests itself as multiple gods. Wiccans and other neopagans are typically monists. Many pagans fall somewhere in-between strict polytheism and strict monism. We'll talk more about polytheism in a future post, but for now just know that the idea of a single, supreme creator is not compatible with most forms of paganism.
… is based in reciprocity. This is a concept that may seem odd to those who grew up around Abrahamic religions: the idea of engaging the gods in a mutually beneficial partnership, rather than one-sided worship. When we connect with the gods, we receive spiritual, emotional, and physical blessings. The gods also benefit, as they are strengthened by our prayers and offerings. (I like to think they also enjoy the company. It has to be lonely, having your body of worshipers supplanted by an anarchist carpenter from Palestine.) The concept of reciprocity is why most pagans make physical offerings to their gods.
Reciprocity also extends to our relationships with other people. Most pagan religions have a code of ethics that includes values like hospitality, kindness, and/or fairness with others. Depending on the pagan, reciprocity may even extend to the dead! Many (but not all) pagans practice ancestor worship, the act of honoring and venerating the beloved dead.
Reciprocity may even extend to the world at large. Some (but not all) pagans are animists, which means they believe that every animal, plant, and stone contains its own spirit. Animist pagans strive to live in harmony with the spirits of the world around them, and may make offerings to these spirits as a sign of friendship.
… embraces the Divine Feminine. Paganism acknowledges and venerates both masculine and feminine expressions of divinity. Polytheist pagans worship both gods and goddesses, while monist pagans see the divine Source as encompassing all genders. In either case, the end result is the same: pagans acknowledge that, sometimes, God is a woman. (Cue the Ariana Grande song.)
Paganism also acknowledges gender expressions outside the masculine/feminine binary. Many pagan deities, like Loki (in Norse paganism), Atum (in Kemetic paganism), and Aphroditus (a masculine aspect of the Greek Aphordite) exist somewhere in the grey area between man and woman.
… is compatible with a mystic mindset. Remember how I said there's a lot of overlap between witchcraft and paganism? Part of the reason for that is because paganism is highly compatible with magic and other mystical practices. Most pagans believe that humans have, or can attain, some level of divine power. It makes sense that this power would manifest as magic, or as other spiritual abilities. Many of the ancient cultures modern paganism draws inspiration from practiced magic in some form, so it follows that modern pagans would as well.
… draws inspiration from the ancient stories. As we discussed, "pagan" originally referred to the religious groups that were pushed out by Christian hegemony. As a result, every modern pagan is a little bit of a historian. Because paganism was pushed underground, it takes a little digging to find myths, rituals, and prayers that can be used or adapted for modern practice.
Many pagans worship historic deities that you've probably read about at some point. Visit any pagan pride event, and you'll probably find worshipers of Zeus, Venus, Thor, and Isis, just to name a few. Studying and interpreting ancient mythology and archaeological evidence is a big part of modern paganism.
… is a religion with homework. If you've read this far, you may be beginning to realize that being pagan is a lot of work. It's fun, spiritually fulfilling, and very rewarding work, but work all the same. Because very few modern pagans have access to temples, priests and priestesses, or an in-person community that shares their beliefs, they end up having to teach themselves, do their own research, and guide their own practice.
This is incredibly empowering, as it means you are your own religious authority. It does, however, mean that you will occasionally have to open a book or slog through a dense academic article about the most recent archaeological find related to your favorite deity. Thankfully, there's a growing number of accessible, beginner-friendly books, blogs, podcasts, and YouTube channels to help you in your research.
… embodies a deep respect for the natural world. While not all pagans are animists, most pagans do feel some sort of reverence for the forces of nature. Many pagan deities are associated with natural forces or use the natural world to communicate with their followers. Because of this, not only do pagans respect and love nature, but they're constantly watching it for signs and messages. (Are you really friends with a pagan if they haven't called you crying because they found a crow feather on the ground or saw a woodpecker in their backyard?)
Some pagan groups, especially neopagan religions like Wicca, have been classified as Earth-centered religions. Personally, I dislike this term. While it is true that many pagans feel a deep spiritual connection to the Earth and may even venerate local nature spirits, to say that these religions are "Earth-centered" feels like an oversimplification. Wiccans, for example, don't actually worship nature — they worship the God and Goddess, who they see reflected in the natural world.
… is driven by individual spiritual practice. As mentioned above, very few pagans have access to an in-person community. Because of this, modern paganism largely consists of individual practices. Even pagans who do belong to a community still typically worship on their own sometimes. These personal practices may involve prayer, offerings to the gods, meditation, divination, astral travel, performing religious rituals, or countless other practices. Many pagans have personal altars in their homes, where they worship alone or with their family.
… is a celebration of daily life. One thing I love about paganism is how it makes every aspect of my life feel sacred. Many religions emphasize the spiritual aspects of life while deemphasizing, or even demonizing, the physical or mundane aspects. This can lead to practitioners feeling like they are spiritual beings trapped in a physical body, or like their physical needs and desires are something to escape.
Paganism allows practitioners to fully enjoy being physical and spiritual beings. Pagans reach for the heights of spiritual awareness, while also enjoying earthly delights — recognizing that neither is inherently more worthy than the other and that both are needed for a balanced life.
… is only one of many paths to Truth. Most pagan groups do not claim to be the only valid religious path, and in fact several openly acknowledge the validity of other religions. This is why you rarely see pagans trying to convert other people to paganism — it's openly acknowledged that paganism isn't for everyone, and that those who are truly meant to practice the old ways will find them.
~~~
Hopefully, this post has given us a good working definition of "paganism." From here, we'll explore some of these individual concepts in more depth and discuss specific religions within the pagan umbrella. Until then, blessed be.
Resources:
Wicca for Beginners by Thea Sabin
Wicca: A Guide for the Solitary Practitioner by Scott Cunningham
A Witches' Bible by Janet and Stewart Farrar
The Way of Fire and Ice by Ryan Smith
Where the Hawthorn Grows by Morgan Daimler
Temple of the Cosmos by Jeremy Naydler
A Practical Guide to Irish Spirituality by Lora O'Brien