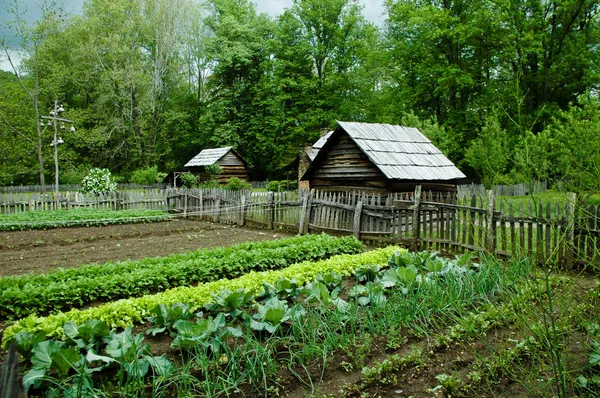 One of my favorite quotes about the magic of homemaking comes from Cory Hutcheson, host of the New World Witchery podcast. He says, "Home is a transformational act. It is the thing you do to turn a space into a space… that is full of ritual and significance and meaning. So there is sort of this ongoing relationship you have with the space that makes it a home."
The act of creating a home, of making a space your own, is inherently magical. But if you want to make your space feel a little more witchy, here are some ideas to get you started.
Charms and Talismans
Making your own magical objects can be a powerful way to bring magic into your space. The best thing about making your own charms is that you can make them look however you want, so it's easy to disguise them as ordinary household objects. You can make a charm for any intention by combining objects based on their magical correspondences.
I've talked about protective charms in previous posts, so I'm not gonna spend a lot of time on it here. The simplest protective charm is keeping a large piece of iron under your bed to keep away nightmares, evil spirits, and negative energy. You could also make your own protection charm, like a witch bottle.
You can create a "happy home" charm to bring peace, harmony, and happiness into your home. This charm could include herbs like basil, rosemary, lavender, peppermint, and/or bay leaves, as well as other items that you associate with peace and good fortune, like lucky coins, crystals, or black cat fur. Write your desires for a harmonious and happy home on a piece of paper, fold it up, and add it to the charm. You could store these items in a green bag, bury them in your backyard (in this case, make sure you're only using biodegradable plant matter — leave out the coins and crystals), or place it inside a household object like a lamp or an end table.
If you suffer from insomnia or other sleep issues, try making a dream charm to help you sleep well and have sweet dreams. To make a simple dream charm, fill a blue or purple bag with lavender, chamomile, peppermint, and any other objects that you associate with peace, restfulness, and sleep. If you want to have lucid dreams or receive psychic messages in your dreams, include a bit of mugwort. Place the charm in your pillow or under your mattress. (I personally swear by this one, as it's helped a lot with my insomnia.)
Charms are great for homemaking magic because you're actually creating a magical object, which can then become a permanent fixture of the space.
Magical Decor
You can use magical items to decorate your home to bring certain qualities into that space.
Hanging or displaying a broom is said to bring good fortune, protection from evil, and good hospitality. Cauldrons are used to represent the Goddess, rebirth, and raw potential. Horseshoes hung above door frames bring safety and luck to all who cross under them, and keep unwanted guests away. If you can get them legally and ethically, animal bones, teeth, claws, and feathers can represent the spirit and energy of that animal. You can also put up images of spiritual and occult symbols — I have an image of the Sun tarot card hanging in my bedroom to promote positivity and growth.
If you need to be a little more subtle with your witchy decorations, working with the magic of color is a great way to do that. Gathering a lot of items of a single color in one room changes the energy of that room. Here's a quick guide to give you some ideas:
Yellow is associated with divination, mental clarity, the element of air, success, communication, and inspiration.
Purple is associated with divine power, spiritual awareness, mystery, astral travel, magic, and authority.
Blue is associated with healing, psychic abilities, the element of water, peace, truth, and patience.
Red is associated with protection, the fire element, sex, power, vitality, and love.
Orange is associated with ambition, creativity, breaking through blockages, and career success.
Pink is associated with romantic love, friendship, self love, compassion, and emotional well-being.
Green is associated with nature, herbalism, the earth element, money, wealth, prosperity, and luck.
Brown is associated with grounding, animal magic, stability, and balance.
White is associated with purification, cleansing, the full moon, new beginnings, healing, and spiritual growth.
Black is associated with protection, truth, outer space, banishing, and transition.
Decorating your home with colors that are meaningful to you can create a powerful magical space. You may also have your own color associations (for example, yellow is a very "happy" color for me), so feel free to incorporate those into your decor as well!
Growing Magical Houseplants
Most witches feel a very deep connection to nature and draw power from the natural world, but we can't all live in a cottage in the heart of the forest. Even if you live in a tiny apartment in the city, you can still bring nature into your space by keeping houseplants. Many popular houseplants have magical uses, and many popular magic herbs can be grown inside. Here are a few to get you started.
Aloe. This is one of my favorite plants. Aloe brings luck and protection, especially protection on an energetic/spiritual level. I like to keep aloe in my bedroom to protect me while I sleep, as well as to bring luck and inspiration while I'm working at my desk.
Basil. Basil is very popular in money spells, and will attract prosperity and luck to your home. However, it also has protective properties — both spiritual protection and protection from bugs, since basil is a natural insect repellent! Basil can also be used in love spells, and is just generally a good plant to have around for good vibes.
African Violet. This flowering plant attracts positive spiritual energy into your space. It has associations with the moon and the water element, and is very good for promoting spirituality and psychic power.
Rosemary. Rosemary is one of those herbs that every witch should have on hand. It's so darn versatile, it can be used as a substitute for virtually any other herb, and can be used for almost any intention. Some of the most common magical associations for rosemary include: cleansing, purification, protection, healing, mental activity, and enhancing memory. According to author Deborah J. Martin, there's an old English saying that, "Where rosemary grows, the woman rules the house." Like basil, rosemary is a natural insect repellent.
Lavender. Lavender brings peace, love, and gentleness, which makes it a perfect addition to any home. It can be used in spells for cleansing and purification, enhancing psychic abilities, and stress relief. Lavender is also a powerful addition to love spells. Keeping lavender in the bedroom can aid in restful sleep, while lavender in the kitchen will bring harmony to the home.
Sage. Sage is the most talked about cleansing herb, and with good reason. Unfortunately, a lot of the sage bundles you can buy at metaphysical stores are made with white sage (Salvia apiana), which is sacred to Native American peoples and is endangered due to overharvesting. Instead of buying those, why not grow your own garden sage (Salvia officinalis), which has a lot of the same magical properties? Growing sage in your home will purify the space and protect those who live there. Sage also has an association with wisdom and mental prowess.
Hoya. Hoya is a common houseplant that you've probably seen even if you don't know it by name. It has a distinctive appearance with waxy, dark green leaves and clusters of white, star-shaped flowers. Hoya aligns and balances the energy centers within your body, as well as in the surrounding space. It's associated both with grounding and with spiritual openness, so it can be great for balancing the two.
Peppermint. Peppermint has a variety of magical uses, but my favorite way to use it is for gently opening up blockages and getting things moving. It's great for cleansing, but is more gentle than rosemary or sage. Place it in any room where you tend to do a lot of healing work, or where you could use some peace and love. Peppermint is also used in dream magic, so growing it in the bedroom may bring on vivid or lucid dreams.
Orchid. Orchids are used in magic for love and lust. Historically, orchid has been used in folk medicine to promote male virility and "Jezebel root," used in American folk magic to attract wealthy male lovers, is a type of orchid root. If you live with a significant other, try growing an orchid in the bedroom to promote passion in your sex life. Otherwise, grow orchids in your home to promote love or to attract romance.
Catnip. If you have cats, they'll love this one. Catnip is actually a type of mint, and has strong lunar associations. It's said to make one more charming and attractive, and is especially useful for attracting women. At the same time, catnip promotes courage and fierceness. It is also, of course, associated with cats and feline deities, so this is definitely a plant you'll want to keep around if the cat is one of your animal guides.
If you have a yard space that you can turn into an outdoor garden, your magical plant options are limited only by your local ecosystem. Some outdoor plants that have magical uses include roses, sunflowers, rue, lemon balm, and strawberries.
Creating an Altar
Altars are focal points of magical and spiritual energy. Many people, both witches and non-witches, find that having a designated space for their spiritual practice creates a deeper sense of sacredness and purpose.
An altar can serve lots of different purposes. Many witches use their altar as a magical work space to prepare spells, meditate, and do divination. You may choose to dedicate your altar to a deity, your ancestors, or some other spirit(s) you work with. You can also build altars for specific intentions, such as a money altar or a love altar — performing rituals at this altar everyday is a powerful method for manifestation. You altar may be some or all of these things, or it may just be a place to sit and connect with the spiritual.
You can set up an altar on any flat surface, like a shelf or table, or inside a container like a jewelry box. Your setup can be as simple or as elaborate as you like. An altar can be huge and complex, with statues and candles and flowers, or it can be as simple as a tealight and an incense burner. It's all about what appeals to you.
Resources: 
New World Witchery pocast, "Episode 143 — The Magical Home"
Southern Cunning: Folkloric Witchcraft in the American South by Aaron Oberon
Wicca: A Guide for the Solitary Practitioner by Scott Cunningham
"Candle colors and their meanings" by Michelle Gruben on the Grove and Grotto blog
Green Witchcraft by Paige Vanderbeck
A Green Witch's Cupboard by Deborah J. Martin
"The Magic of Orchids in Wiccan Love Spells & Rituals" on the Art of the Root blog